Our team provides access to a selection of investment products that is both broad and deep, because we feel that your strategies should change along with your lifestyle and needs – and a change in strategy may require alterations to your portfolio.
Diversification is sound policy, because it's designed to reduce the inherent risk of investing. That's why we offer an extensive array of investment alternatives.
Advisory Services
Steward Partners Global Advisory professionals offer a wide array of advisory services which can be customized to fit your unique situation or family plan. Our advisors have numerous options available to you through Raymond James Financial Services. Our advisory solutions help our financial advisors and their clients succeed beyond financial planning.
ASSET MANAGEMENT SERVICES
In today's complex marketplace, even sophisticated investors are challenged to stay current, to monitor their investments, and to respond to rapidly changing conditions.
The Team at Steward Partners Global Advisory has access to a world class platform through Raymond James Financial Services, the entrepreneurial ability to explore outside alliances and the ability to deliver on a variety of custom features and benefits not being delivered by our competitors.
Look to us for asset management services that are;
Customized to meet the needs of you and your family
Fee-based so advisors have a vested interest in their clients' success
Strategic to reflect the dynamic nature of the market and your life
For further product information please follow the links below.
Steward Partners Global Advisory professionals, through Raymond James, offers full-service asset management for clients who prefer to utilize the skills and expertise of professional money managers.
Asset Management Services – Personal asset management of individual portfolios by professional managers is now available to most investors. The advantages are that the manager understands the objectives of the investor and focuses all of his or her working day on the selection of investments for and the subsequent monitoring of client portfolios.
Eagle Asset Management – Eagle Asset Management provides institutional and individual investors with a broad array of separately managed account and mutual fund products designed to meet long-term goals. Founded in 1976, Eagle was built on the cornerstones of intelligence, experience and conviction that we believe clients expect from their investment managers.
Eagle Boston Investment Management – Eagle Boston Investment Management specializes in small-capitalization investment management and currently manages in excess of $700 million for institutions and high-net-worth individuals. Organized in April 1992, Eagle Boston is a wholly owned subsidiary of Eagle Asset Management.
Mutual Fund, ETF and Unified Managed Account Wrap Programs – The Raymond James Freedom Account makes choosing your portfolio strategy easy. Our comprehensive, four-step process helps match your unique goals and risk tolerance with an asset allocation model that's right for you, from capital protection to asset growth.
Eagle Asset Management is a subsidiary of Raymond James Financial. Small cap investing involves greater risks and is not suitable for all investors.
Fee-Based Accounts
In an asset-based fee relationship, you pay a fee (charged quarterly) for the advice and services provided by your wealth manager as a part of the advisory relationship. This fee is based on the level of assets in your account, independent of the level of trading activity. By deciding to pay a fee based on services provided rather than transactions, you should understand that the fee may be higher than the cost of a commission alternative during periods of lower trading activity.
Additional Considerations
You should consider these factors when deciding whether a fee-based account is right for you: i) your past and anticipated investment activity, ii) past and anticipated use of the products and services available in the account, iii) the value and type of eligible assets, iv) the costs and potential benefits of the service, v) investment objectives and goals, vi) additional financial and planning services provided by your wealth , vii) personal preferences concerning available payment alternatives.
You should also consider whether it would be better to pay separately for each trade executed and each product and service used. Since these factors may change, you should periodically re-evaluate whether the ongoing use of a particular asset-based fee program continues to be appropriate for your needs.
In order to offer a selection of asset managers designed to meet investors' diverse needs, Raymond James employs one of the most highly regarded due diligence groups in the nation to review managers before their services are offered through Raymond James. This group closely scrutinizes the philosophies, investment selection processes, specific investment selections, performance, personnel and progress of more than 100 domestic and international asset managers, then provides comprehensive due diligence reports, which are updated at least annually and feature in-depth evaluations of the specific managers.
Banking and Lending Strategies
The road to wealth and long-term financial stability requires that you manage your liabilities just as thoughtfully as you manage your assets. Whether you need funds to launch a new business venture, buy a new home, or even assist with college tuition, we have the tools you need to move forward with your plans. Steward Partners Global Advisory professionals through Raymond James offers a complete suite of lending products to help you gain access to capital quickly and cost-effectively.
Cash management solutions to help manage your finances
A significant part of your overall financial plan is your short-term cash needs. Your advisor offers a number of cash management solutions designed to help you manage your day-to-day finances. Learn more about them and how they can help you do more with your money.
Capital Access
Capital Access, Raymond James' easy-to-use cash-management program, provides a comprehensive solution for handling and consolidating your day-to-day finances. In addition to online access to your account, a dedicated support team and your wealth manager are always available to answer any questions you may have.
With the Capital Access Visa Platinum debit card, you can shop almost anywhere without the need to carry cash or remember your checkbook. You can also get cash from your account when you make a purchase at participating retail locations.
With Capital Access, you never have to worry about unauthorized usage. Raymond James premier fraud-protection service safeguards your debit card 24 hours a day, every day. The service team watches for unauthorized account activity so you don't have to, and we manage any fraud-related issues you may encounter. The dedicated fraud protection team monitors your transactions in real time.
Brokerage account funds
Raymond James provides you with multiple options for automatically investing cash in your brokerage account – whether from the sale of a security, a dividend payment or some other source – into a money market account paying a competitive interest rate. Of course, we also make it easy to access cash from your account when you want it. The Capital Access Visa Platinum debit card.
Securities Based Line of Credit
Maybe you see a rare chance to expand an existing business or acquire a new one. Perhaps you need a bridge loan for a project. Or, now seems to be the perfect time to finally buy that vacation home. A Securities Based Line of Credit can help you capitalize on life's opportunities and is flexible enough to meet almost any personal or business financing need. The loan is collateralized by securities within your Raymond James' brokerage accounts, giving you increased borrowing power and highly competitive pricing. Rather than sell securities and disrupt your long-term investment plans, you can use your Securities Based Line of Credit for the liquidity you need to enjoy more of what life has to offer.
Please note, the proceeds from a Securities Based Line of Credit cannot be used to purchase or carry margin securities1
Margin
A Margin account provides a line of credit that allows investors to borrow against existing eligible assets within their Raymond James' account at competitive interest rates. The account provides an immediate source of cash, which can increase your buying power for other personal or investment needs, including securities2
The professionals at Raymond James Bank can match you to a variety of competitive lending programs available to meet your needs.
Current Rates
*1A Securities Based Line of Credit may not be suitable for all clients. Borrowing on securities-based lending products and using securities as collateral may involve a high degree of risk. Market conditions can magnify any potential for loss. If the market turns against the client, he or she may be required to deposit additional securities and/or cash in the account(s) or pay down the loan. The securities in the pledged account(s) may be sold to meet the collateral call, and the firm can sell the client's securities without contacting them. The interest rates charged are determined by the market value of pledged assets and the net value of the client's Capital Access account.
*2Borrowing on margin and using securities as collateral may involve a high degree of risk and may not be appropriate for all investors. Market conditions can magnify any potential for loss. If the market turns against the investor, he or she may be required to deposit additional securities and/or cash into the account. The securities in the account may be sold to meet the margin call, and the firm can sell investors' securities without contacting them.
Wealth Planning Solutions
Addressing the complexities of wealth in today's markets requires professional guidance, a disciplined process, and access to an extensive set of product and service solutions. Your Steward Partner's wealth manager can provide direction in implementing not only traditional investment solutions but also more sophisticated investment alternatives – both now and as your life and objectives change over time. These include:
Professional Asset Management
that utilizes advanced asset allocation techniques and carefully selected money managers across a range of equity and fixed income disciplines. The extensive research and resources of the Raymond James Asset Management Group and our disciplined, four-step consulting process provide you with an institutional-quality portfolio specifically designed to help achieve your long-term financial goals.
Alternative Investments such as real estate, private equity, commodities, managed futures, structured products and hedge funds. The Raymond James Alternative Investments Group reviews and selects investments in this category, which can add diversification to portfolios, offer enhanced return potential and provide access to exclusive investment talent.
Alternative investments involve specific risks that may be greater than those associated with traditional investments and may be offered only to clients who meet specific suitability requirements, including minimum-net-worth tests.
Addressing the complexities of wealth in today's markets requires professional guidance, a disciplined process, and access to an extensive set of product and service solutions. Your Steward Partner's wealth manager can provide direction in implementing not only traditional investment solutions but also more sophisticated investment alternatives – both now and as your life and objectives change over time.
One of the most rewarding aspects of substantial wealth is being able to share it with others. Your Steward Partner's wealth manager, working with your legal and tax professionals, can help develop a plan that enables you to maintain the lifestyle you deserve now while also building a financial legacy.
Steward Partners Global Advisory invites clients to the Raymond James home office to experience the stability and strength of our broker-dealer. Raymond James's "By Invitation Only" (BIO) visits bring our best clients to Raymond James international headquarters in Florida to meet with our professionals and interact with management. The BIO program has been in existence at Raymond James for over 18 years. Hundreds of prospective clients, existing clients and referral sources have visited the Raymond James Financial headquarters in St. Petersburg, Florida, to learn more about the products, services and support available. During your visit, you'll also have the opportunity to tour The Tom and Mary James/Raymond James Financial Art Collection, one of the largest privately owned collections in the Southeast.
Many executives face similar decision-making challenges at the corporate level. Issues such as the design and administration of various benefit plans, marketing to institutional investors, or executing a corporate repurchase program can create additional layers of time-consuming responsibility. Your Steward Partner's wealth manager has access to a full range of corporate solutions to help you weigh the pros and cons of various topics.
Whether you are early in your career, actively contemplating retirement or already retired, we can help ensure you have the resources you need for the retirement lifestyle you want.
Steward Partners Global Advisory professionals offer a comprehensive range of retirement planning services, savings options that permit both tax-deductible contributions and tax-deferred earnings, and a dedicated and knowledgeable staff to help with planning your retirement.
In addition, we can assist you in developing your overall financial plan to achieve specific goals through targeted tools including 401(k) plans, traditional IRAs and Roth IRAs.
Many business owners today are faced with an increasing need to provide a retirement benefit for themselves and their employees. At Steward Partners Global Advisory, listening to you and helping you and your employees plan for retirement are top priorities. Selecting the right retirement plan for your business is a crucial step, and providing one has many benefits.
One advantage is that contributions to a retirement plan today can help you meet tomorrow's goals of financial security.
Another is that establishing a retirement plan may provide tax advantages. Eligible contributions are deductible expenses to your business, and all contributions grow tax-deferred until withdrawn.1
Still another benefit is that it can create positive employee relations, helping to attract and retain quality employees, while reducing turnover.
For many business owners, the question is not "Should I implement a retirement plan?" Rather, it is "Which plan is right for my business?" The choices are many: SEP, profit sharing, 401(k), SIMPLE IRA and defined benefit, to name a few.
Learn about Portfolio Solutions, a regionalized team offering holistic portfolio review services to relationships valued at $5MM and above.
About us?
This regionalized team offers holistic portfolio review services to relationships valued at $5MM and above. Assessing overall portfolio composition, using overlap and X-ray analysis, this team seeks to identify gaps and over concentrations as well as opportunities and weaknesses and to better understand the current portfolio as it relates to your stated goals and objectives. As a product agnostic team, PSG partners with firm wide product professionals to identify and illustrate specific solutions to assist in realigning portfolios with objectives. The PSG team offers the following;
Members of the Regionalized Wealth Solutions Team
Holistic portfolio review
HNW: $5MM+
Internal, external and proprietary tools and technology
Asset allocation and sector review
Overlap and X-ray analysis
Looks for gaps, over concentrations, weaknesses and vulnerabilities
Product agnostic
Partners with firm product professionals for product review and proposal
Consolidates and illustrates comprehensive portfolio solutions
Executive summary
Estate Planning
A carefully crafted estate plan allows you to control your assets while passing your wealth on to your beneficiaries efficiently and in a manner that reflects your personal values and objectives. Raymond James provides a range of consulting services to help you and your advisor develop a customized estate plan, including wealth replacement strategies, complete trust services, tax strategies and more.
Trust Services
The professionals at Raymond James Trust, N.A. have extensive experience with individual trusts as well as living, charitable remainder, life insurance, specialty and IRA rollover trusts. Together with your wealth manager, they can develop personalized solutions to your specific needs that also provide you with the objectivity and resources of a corporate trustee.
Often, the very asset that has led to the creation of significant wealth is the one that poses the biggest risk to future financial security. Stock and option incentives from your employer allow for participation in a company's growth. A large inheritance may come in the form of a significant position in a single security. A sale at a closely held business for shares of a publicly traded company is increasingly common.
While each of these scenarios can create wealth within a family, they can also lead to the accumulation of a disproportionately large concentration of net worth in one security. This sort of concentrated equity position can add significant risk and volatility to your portfolio, since price changes in the security can have a major affect on the overall wealth and future financial security of you and your family.
Tax issues created by the sale of the stock, emotional attachment to the company, bullish sentiments on the stock's future or concerns about insider status at the company may paralyze otherwise rational investors to inaction. Here we present several strategies that may be appropriate for those who wish to mitigate the risk of over-concentration. Of course, as with all investment decisions, determining the right course of action is dependent on your individual circumstances.
With all the demands and decisions parents face, one important aspect of planning for a child's future is often unintentionally overlooked – college. However, with tuition rates rising, it should be at the top of every parent's planning list – no matter the child's age.
What's more, saving for a child's education doesn't necessarily have to rest entirely with parents. With the flexibility and convenience of today's savings plans, many alternatives make good sense for grandparents, aunts and uncles, other family members and friends.
You have big dreams for the aspiring academics in your life. Don't let a lack of planning sidetrack those aspirations. A Steward Partner's wealth manager has the expertise and resources to help you explore your savings plan options as well as other funding strategies.
Education plans
529 Savings Plans
529 Prepaid Plans
UGMA/UTMA Custodial Accounts
Coverdell Education Savings Accounts
Alternative strategies
IRAs
Company-sponsored retirement plans
Life insurance
Whether you are just starting to save or you're ready to retire, your advisor will begin by getting to know who you are and what you want out of life. Then he or she will work with you to build a fully customized, comprehensive financial plan designed to account for all of your wants and needs and prioritize the goals that are most important to you.
Using the wealth of resources and technology tools available from Steward Partners Global Advisory and Raymond James Financial Services, your advisor will then test your plan – exploring the potential impact of "unknowns" and how any adjustments could affect your goals – and continually monitor your progress.
Institutional Consulting
Your Steward Partner's wealth manager can lead your organization through the institutional investment process in conjunction with the resources of the Raymond James Institutional Consulting Services team. Below is more information on the Raymond James Institutional Consulting Services team.
A team of investment professionals who assist in the management of investment processes and the implementation of appropriate investment strategies customized for your organization.
Our disciplined process adheres to well-established fiduciary standards and is backed by our philosophy of conservative management.
Nonprofits
Foundations
Endowments
Corporations
Family offices
Insurance companies
Offered by our veteran Institutional Consulting team, our services include:
Investment policy review and development
Asset allocation guidance
Investment search and selection assistance
Investment search and selection assistance
Performance reporting
Research and due diligence
Services and education for fiduciaries
Following a clearly defined, disciplined process, Raymond James Institutional Consulting Services (ICS) provides for all aspects of investment consulting, including:
Investment Policy Review and Development
Asset Allocation Guidance
Investment Search and Selection Assistance
Performance Reporting
Research and Due Diligence
Services and Education for Fiduciaries
Once the investment process is established and investments are implemented, our work and communications continue. Each investment solution we help our clients select within the Raymond James Consulting Services and Freedom programs receives our ongoing analysis and review, as detailed in the graphic below. In some cases we may also assist you in the development of an alternate monitoring process for other investments within your portfolio.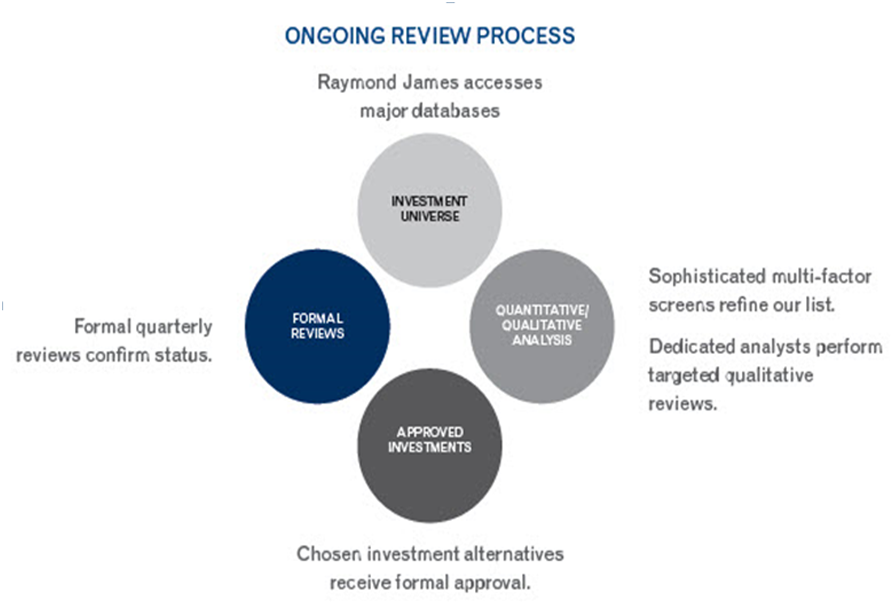 ICS provides services for institutional clients ranging from nonprofits, foundations and endowments to corporations, insurance companies and family offices
Raymond James Investment Banking serves the capital and strategic advisory needs of today's emerging growth companies. This is accomplished by employing the deep industry knowledge and transactions expertise of our more than 240 Investment Banking professionals organized by industry specialty located in 14 offices throughout the United States. Since 2009, we have participated in raising $500 billion in capital for our corporate clients. During this same time, we completed more than 400 advisory assignments, including over 350 M&A buy-side or sell-side advisory assignments. Raymond James has recently been named "Investment Banking Firm of the Year" by The M&A Advisor and "USA Middle Market M&A Investment Bank of the Year " by the Global M&A Network.
Raymond James Public Finance provides comprehensive municipal bond underwriting and financial advisory services to state and local governments, agencies and authorities throughout the US. Our veteran bankers offer experience and expertise in a wide range of sectors including:
Health Care
General Government
Housing
Insurance Advisory
Transportation
Higher Education & Non-Profit Organizations
K-12 School Districts
Military Housing
Utilities
The Raymond James Public Finance team:
Consists of more than 180 professionals in 24 locations nationwide
Is a consistent top 10 underwriter of senior managed deals nationally
Has the largest underwriting desk in the Southeast
Completed more senior led and co-managed issues in 2014 than any other firm in the nation
Insurance Planning
Steward Partners and Raymond James Insurance Group's mission is to make it easy for financial advisors to provide substantive insurance and annuity solutions to meet their client's unique needs.
Raymond James Insurance Group, the oldest wholly owned subsidiary of Raymond James, puts real insurance and annuity solutions in the hands of Steward Partners' financial advisors by providing:
Access to multiple insurance carriers
Due diligence and monitoring of the financial status of approved carriers
Problem solving, marketing and technical assistance
Product guides and product comparison grids for products
Technology tools to help advisors research, compare and select products, including Annuity Intelligence, Cannex and Annuity Wizard
Life insurance illustrations
Displaying annuity values in client accounts and statements
Before investing, investors should carefully consider the investment objectives, risks, charges and expenses of the variable annuity and its underlying investment options. The current contract prospectus and underlying fund prospectuses, which are contained in the same document, provide this and other important information. Please contact your representative or the Company to obtain the prospectuses. Please read the prospectuses carefully before investing or sending money. Variable annuities are generally considered long term investments.
Guarantees are based on the claims-paying ability of the issuing company. All guarantees are made by the issuing insurance company. Annuities are long-term, tax-deferred investments intended for retirement purposes. Any Withdrawals may be subject to income taxes and, prior to age 59 1/2, a 10% federal penalty tax and state penalty taxes may apply to the taxable amount. Investment involves risk. Please consult with your financial professional about your individual situation.
Insurance and Annuity Products
Variable AnnuitiesFixed AnnuitiesIncome AnnuitiesIndex Annuities Structured AnnuitiesLife InsuranceLong-Term Care InsuranceDisability Insurance
Variable annuities are a tax-deferred investment vehicle designed for retirement income and typically are accompanied by a guaranteed lifetime income rider provided by the issuing insurance company. Returns they deliver are based on the performance of the underlying securities, and usually offer a wide array of securities that the annuity holder can choose from.
Fixed annuities are designed as savings vehicles, similar to a CD, and are built for safety of principal and a consistent, guaranteed return. They offer a guaranteed minimum interest rate and tax-deferred accumulation.
Adding an income annuity to your portfolio may be a way to create not a lifetime payment stream, but also potentially produce more assets for growth and liquidity.
Fixed immediate annuities are designed neither as a savings nor investment vehicle. It includes two product types:
Single Premium Immediate Annuities (SPIA) – designed solely to provide guaranteed income immediately within 12 months of the purchase date, and provide consistent, level income along with many different payout options
Deferred Income Annuities (DIA) – also provides guaranteed income, but are typically used for income at a date in the future; from two years to up to 40 years.
Index annuities are guaranteed by the issuer and designed to mirror the performance of broad stock indices. In addition to enabling you to participate in a rising market, an index annuity can also protect your investment should the market turn down.
Structured Annuities are a new tax-deferred annuity offered on an ongoing basis. They provide clients with upside participation in the performance in an underlying market and a buffer that can partially protect against market loss.
Under the terms of a life insurance policy, an insurer promises to pay a certain sum to a beneficiary upon the insured person's death, in exchange for premium payments. Proper life insurance coverage should provide peace of mind, since you know that those you care about will be financially protected after death.
LTC Insurance provides assistance for costs incurred due to unforeseen long-term health issue(s), typically lasting longer than 90 days, which result in the insured needing assistance in performing 2 of the 6 regular activities of daily living (ADLs).
Disability Insurance provides supplemental income in the event that you are unable to work for an extended period of time.