Your Steward Partner's wealth manager can lead your organization through the institutional investment process in conjunction with the resources of the Raymond James Institutional Consulting Services team. Below is more information on the Raymond James Institutional Consulting Services team.
A team of investment professionals who assist in the management of investment processes and the implementation of appropriate investment strategies customized for your organization.
Our disciplined process adheres to well-established fiduciary standards and is backed by our philosophy of conservative management.
Nonprofits
Foundations
Endowments
Corporations
Family offices
Insurance companies
Offered by our veteran Institutional Consulting team, our services include:
Investment policy review and development
Asset allocation guidance
Investment search and selection assistance
Investment search and selection assistance
Performance reporting
Research and due diligence
Services and education for fiduciaries
Following a clearly defined, disciplined process, Raymond James Institutional Consulting Services (ICS) provides for all aspects of investment consulting, including:
Investment Policy Review and Development
Asset Allocation Guidance
Investment Search and Selection Assistance
Performance Reporting
Research and Due Diligence
Services and Education for Fiduciaries
Once the investment process is established and investments are implemented, our work and communications continue. Each investment solution we help our clients select within the Raymond James Consulting Services and Freedom programs receives our ongoing analysis and review, as detailed in the graphic below. In some cases we may also assist you in the development of an alternate monitoring process for other investments within your portfolio.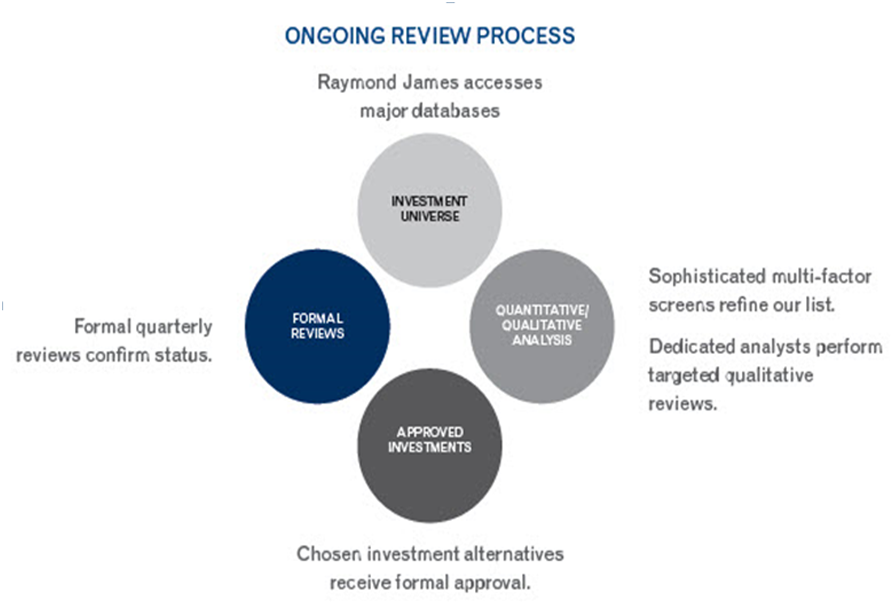 ICS provides services for institutional clients ranging from nonprofits, foundations and endowments to corporations, insurance companies and family offices
Raymond James Investment Banking serves the capital and strategic advisory needs of today's emerging growth companies. This is accomplished by employing the deep industry knowledge and transactions expertise of our more than 240 Investment Banking professionals organized by industry specialty located in 14 offices throughout the United States. Since 2009, we have participated in raising $500 billion in capital for our corporate clients. During this same time, we completed more than 400 advisory assignments, including over 350 M&A buy-side or sell-side advisory assignments.
Raymond James Public Finance provides comprehensive municipal bond underwriting and financial advisory services to state and local governments, agencies and authorities throughout the US. Our veteran bankers offer experience and expertise in a wide range of sectors including:
Health Care
General Government
Housing
Insurance Advisory
Transportation
Higher Education & Non-Profit Organizations
K-12 School Districts
Military Housing
Utilities
The Raymond James Public Finance team:
Consists of more than 180 professionals in 24 locations nationwide
Is a consistent top 10 underwriter of senior managed deals nationally
Has the largest underwriting desk in the Southeast
Completed more senior led and co-managed issues in 2014 than any other firm in the nation