By Greg Banasz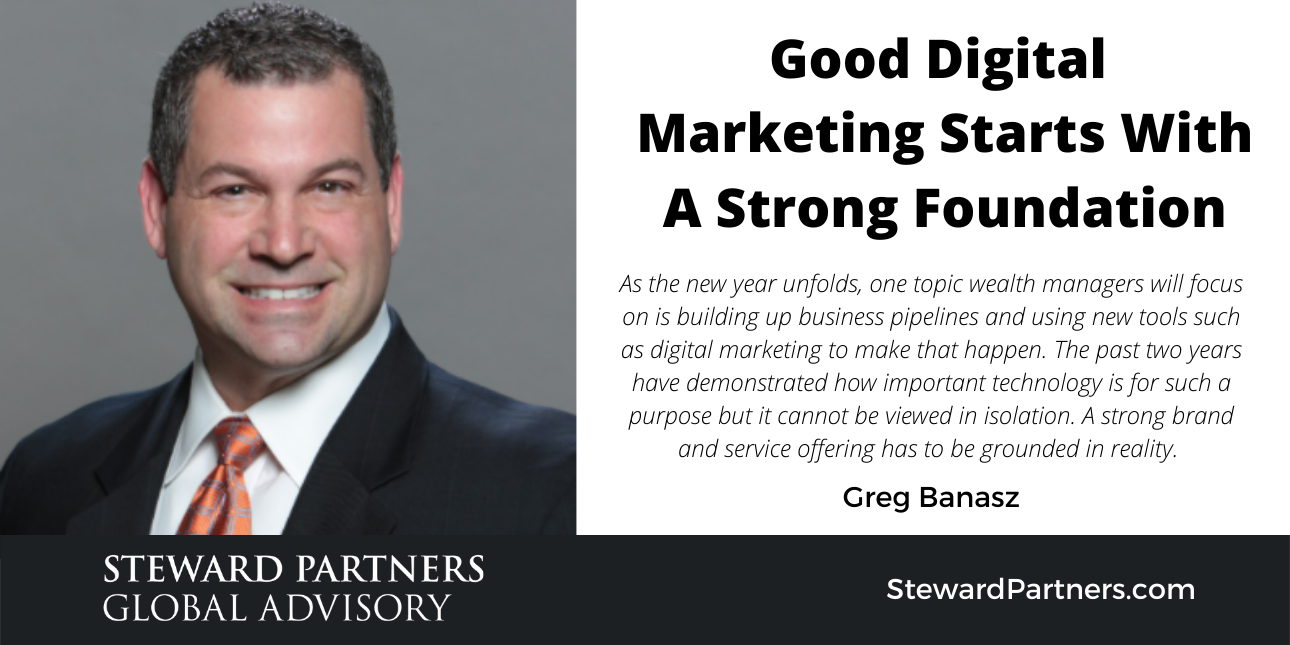 Digital marketing can be one of the most valuable brand building and business development tools available to an independent investment advisor. Posts on social media, digital advertising and targeted email campaigns can be very cost-effective ways for a newly independent advisory firm to get their message out, but first you need to have a digital presence that exemplifies that message.
And that's the problem facing many newly independent advisors who spent most of their careers as employees of a large bank or wirehouse. Digital marketing wasn't something they were permitted to engage in, so they never had to worry about it. I've spoken to advisors within the wirehouse world who don't even have a LinkedIn profile, or if they do it simply lists their name, title, and company affiliation. They may also have a similar listing somewhere in the depths of a massive corporate website, but don't promote it because "no one ever looks at that website."
But these days, without a strong digital presence you might as well not even exist. What many of these advisors fail to realize is how much they may be losing without a digital presence. When a potential new client hears about you from a friend or family member, the first thing they are likely to do is a Google search for you or your firm to get a sense of who you are and to vet your credentials.
Today, it seems that every strip mall take-out restaurant and dry cleaner has a website as well as Facebook and Instagram accounts, so not having anything come up in a web search says a lot about you, and none of it is good. According to the customer data and marketing platform Clutch, almost two-thirds of all small businesses have websites. If you don't have a professionally designed website that shows off your message and your brand, that potential client is unlikely to pick up the phone and call, regardless of how many good things they've heard about you.
Building the Foundation
When it comes to digital marketing for newly independent advisors, the first steps to take in creating an online identity and building your new firm's brand are a sharp website and a professional LinkedIn profile. Your mother was right when she said you never get a second chance to make a first impression and in today's world, your first impression is almost always digital. With that in mind, it's imperative that your branding and message are well articulated in the digital world, as they are the foundation of all your digital marketing efforts.
Your website is one of the first places potential clients will go to learn more about your company. Digital marketing can help attract people to your site when they are searching for someone who offers your services, but you then have to give them a reason to stay there.
Does the site look professional and businesslike?
Do the images make sense for your brand?
Does the content accurately reflect your mission, values and offering?
Are you giving them a reason to return later?
Finally, make sure your URL, the website address, makes sense and is easy to remember. If you are required to have a firm designated address, consider a redirect domain name.
And never lose sight of who your website is created for. You are not your audience. Subscribe to the platinum rule ('treat people the way they want to be treated') rather than the golden rule ('treat people the way you want to be treated'). What's important to you may not be what your audience wants. It helps to envision who your target is.
A good website should be your public face and be the hub around which you build your communications strategy. The Price Group of Steward Partners in Houston, TX features a blog written by Senior Vice President, Partner Matt Price, CFP®, CIMA®, which addresses topical financial issues. They also distribute a newsletter through their site that has a "did you know?" section: "Did you know we offer banking and lending services/" or "Did you know we offer insurance reviews?" to remind people that they offer much more than just asset management. An existing client who didn't know they offered insurance reviews saw that, asked about it, and as a result the firm ended up with significantly more assets from that client.
In addition to having a professional looking website, it's imperative that you have a powerful LinkedIn profile. LinkedIn is the Facebook of the business community and prospective clients are likely to check you out there before they ever pick up the phone to call. In addition to your work history, credentials, education and other vital statistics, LinkedIn is a great place to post content that shows your subject matter expertise.
The Content Marketing Institute notes that 94% of B2B marketers used LinkedIn as part of their content strategy and that 84% also use Facebook. Other popular platforms for business are Twitter, YouTube and Google.
On our own corporate LinkedIn page, Steward Partners highlights a different partner firm each month and sends out two unique posts on their behalf. The first is a basic introduction to the team, including a photo, followed 15 days later with a post that tells a story or offers additional insight into the team.
Since we initiated that campaign, we've been told by several advisors that it really gave their businesses a boost. Wayne McCormick, CFP®, ChFC®, Managing Director, Wealth Manager of McCormick Wealth Management at Steward Partners in Manchester, NH, said that after his team was featured, a former client reached out, said he hadn't been happy since he switched advisors and after reconnecting ended up transferring a seven-figure account back to McCormick's team.
And although LinkedIn is a business-centric platform, Facebook can also be a valuable tool. Betsy Madonna, CFS™ of Madonna Money Management at Steward Partners in Conshohocken, PA, uses Facebook quite effectively for interaction with and financial education of both prospects and current clients. In addition to static content, she posts short videos and weaves in stories about her family and the challenges of being a working mom as she discusses important financial topics and dispenses basic financial advice.
There are obviously a number of other digital marketing avenues to go down, but I always advise those new to digital marketing to start small. A good website and active LinkedIn page provide an excellent foundation for additional digital marketing efforts, but you have to monitor them and provide regular updates. Your digital presence is not a set-it-and-forget-it proposition. You must monitor it and you have to update regularly. Having a prospective client see that the most recent content on your site is six months or a year old, while a competitor has a blog post on the latest tax proposals will not present you in the best light.
It's important for those new to marketing to realize that you can't directly translate your efforts into measurable new asset flows. But you can track things like new followers or how many visits you're getting to the website. That will help you determine if your brand identity is starting to stick and become more well known throughout the community and where you should focus your attention.
Building a strong presence online takes time, attention, and patience, but in the long run it is well worth the effort. Once you have a strong foundation you can expand upon that and add other social media platforms, digital advertising, and other business development strategies. From there, the sky's the limit. As long as you start with a strong foundation.
Greg Banasz is a Managing Director, Founding Partner and Head of Business Development for Steward Partners Global Advisory.